Soooo much to write about. Talk about a total slacker here. Let's go back to May '07 and recap our 3rd anniversary trip to Sydney, Australia. M'kay?
We are so fortunate and blessed that we are able to do as much traveling as we have done. China, Australia a few times, New Zealand, etc., it's just all so amazing. For our third anniversary, we decided to head down to Sydney, Australia. We left on May 13 and got in to the Cairns airport at 11:30 p.m. Our flight to Sydney (on Qantas, such a nice airline!) left at 7 a.m. that next morning, which meant we had to be at the airport at 5 a.m., which meant we got about three hours of sleep. Suffice to say that we both slept very well on that flight down to Sydney.
We hit the ground running once we landed. Apparently there was a bunch of fog in the morning, so the airport was crazy busy with people. Our flight was the first of the day that was approved for landing, so we kinda lucked out there, but still had to deal with a mass of people. Argh. Once we cleared customs, we found our hotel transport, who whisked us away to the Swissotel.
We were pretty lucky because we got to the hotel at 9 a.m. and fully expected for them to tell us that our room wouldn't be ready for a few more hours. That wasn't the case. We were able to check right in. Yay! I had made us reservations to do the
Sydney Harbour Bridge Climb
that afternoon, so we hightailed it to the check-in. It seems like all of our vacations are the "go go go" type, and this was no exception!
Once we got to the Bridge Climb offices, we were shown a short video about the adventure we were about to take part of; climbing up the largest and widest steel-arch bridge in the world, at 151.3 feet wide, and 440 feet above sea level.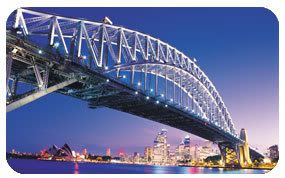 We weren't allowed to bring cameras with us on the walk, so unfortunately, I don't have any pictures of us on the bridge (although that might be a good thing, after you see the dead sexy outfit we had to wear!). See proof:
We do have a souvenir photo and certificate that they gave us at the end of the tour, but no photos scanned into the computer. Sorry!
The climb was about three hours long and was quite a workout! It was an excellent experience, though, and one we'll never forget.
After getting down off of the bridge, we tried to find somewhere to get a late lunch, but soon discovered that most restaurants in Sydney close after lunch and then reopen around 6 p.m. for dinner. So, to soothe our grumbling bellies, we found a smoothie shop and got a smoothie to tied us over for a few hours. The rest of the day, we just wandered around and explored. We got some coffee at Starbucks, walked, and did a little bit of shopping. By the end of the day, we were beat and ready to get some sleep!